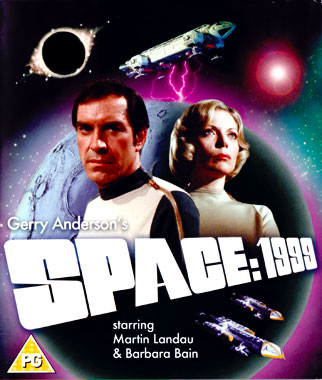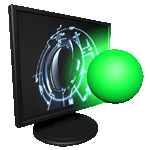 Ici la page Amazon.fr du blu-ray anglais de la saison 1 de Cosmos 1999 (pas de version française)
Ici la page Amazon.fr du coffret intégral saison 1 et 2 13 DVD de Cosmos 1999 de chez TF1

Space 1999 (1975)

Diffusé à partir du 4 septembre 1975 sur ITV 1 UK.
Diffusé à partir du 13 décembre 1975 sur TF1 FR.
Sorti en blu-ray anglais saison 1 le 1er novembre 2010 chez NETWORK UK (lisible en France, pas de version française ni de sous-titres français).
Sorti en blu-ray anglais saison 2 chez NETWORK UK.

De Gerry et Sylvia Anderson. Avec Martin Landau, Barbara Bain, Barry Morse, Prentis Hancock, Zienia Merton, Anton Phillips, Nick Tate.
Septembre 1999. Le Commandant Koenig débarque sur la Base Lunaire Alpha pour s'assurer que la première mission d'exploration d'une exo-planète partira bien à la date fixée. Cependant, les pilotes de la mission sont victimes les uns après les autres d'un mal mystérieux et son vieil ami, le professeur Bergman, ainsi que la Doctoresse Héléna Russel essaient de lui faire confiance que la mission sera vouée à l'échec si l'énigme du mal mortel qui atteint les pilotes n'est pas résolue.
Koenig découvre trop tard la cause du mal : contre toute attente, des moteurs interstellaires cachés dans la Lune s'active et la Lune quitte son orbite, détruisant la base spatiale en orbite et déclenchant un cataclysme sur la Terre. Les survivants de la Base Alpha regardent alors impuissants la Terre disparaître de leur ciel, et un nouvel horizon interstellaire la remplacer. En effet, désormais les moteurs interstellaires de la Lune font glisser la petite planète d'un point de rendez-vous extraterrestre à un autre, et les habitants de la base Alpha n'ont que trois jours pour décider d'évacuer ou bien faire face à une nouvelle menace.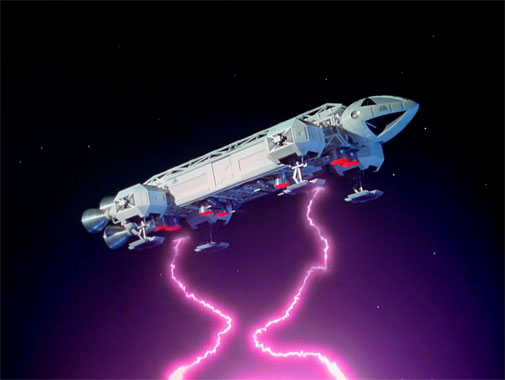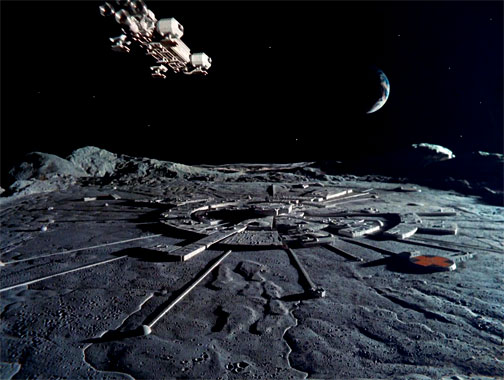 ***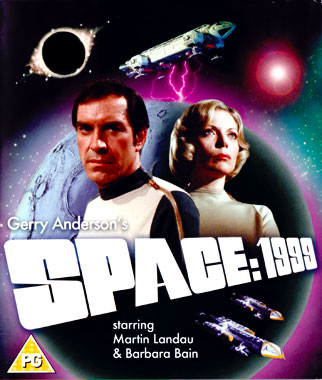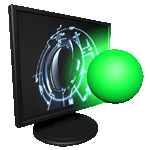 Saison 1 (1975, avec Barry Morse)

Space 1999 S01E01: A la dérive (Breakaway, séparation).
Space 1999 S01E02: Question de vie ou de mort (Matter Of Life And Death, Une question de vie et de mort).
Space 1999 S01E03: Le soleil noir (The Black Sun).
Space 1999 S01E04: L'Anneau de la Lune // La Lune de Triton (Ring Around the Moon)
Space 1999 S01E05: Direction Terre (Earthbound)
Space 1999 S01E06: Autre temps, autre lieu (Another Time, Another Place)
Space 1999 S01E07: Le Maillon (Missing Link)
Space 1999 S01E08: Le Gardien du Piri (Guardian of Piri)
Space 1999 S01E09: Puissance de vie (Force of Life)
Space 1999 S01E10: L'Enfant d'Alpha (Alpha Child)
Space 1999 S01E11: Le Dernier Crépuscule (The Last Sunset)
Space 1999 S01E12: Le Retour du voyageur (Voyager's Return)
Space 1999 S01E13: Collision inévitable (Collision Course)
Space 1999 S01E14: Un autre royaume de la mort (Death's other Dominion)
Space 1999 S01E15: Le Grand Cercle (The Full Circle)
Space 1999 S01E16: Au bord de l'éternité (End of Eternity)
Space 1999 S01E17: Ruses de guerre (War Games)
Space 1999 S01E18: Le Dernier Adversaire (The Last Enemy)
Space 1999 S01E19: En désarroi (The Troubled Spirit)
Space 1999 S01E20: Cerveau spatial (Space Brain)
Space 1999 S01E21: La Machine infernale (The Infernal Machine)
Space 1999 S01E22: La Mission des Dariens (Mission of the Darians)
Space 1999 S01E23: Le Domaine du Dragon (Dragon's Domain)
Space 1999 S01E24: Le Testament d'Arcadie (The Testament of Arkadia)

***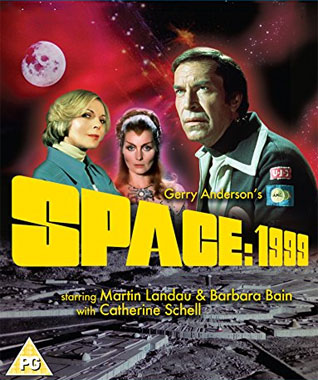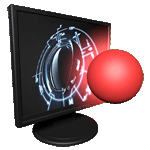 Saison 2 (1976, avec Catherine Schell).

Space 1999 S02E01: La Métamorphose (The Metamorph)
Space 1999 S02E02: Les Exilés (The Exiles)
Space 1999 S02E03: Humain, ne serait-ce qu'un moment (One Moment of Humanity)
Space 1999 S02E04: Tout ce qui luit (All That Glisters)
Space 1999 S02E05: En route vers l'infini (Journey to Where)
Space 1999 S02E06: Taybor, le commerçant (The Taybor)
Space 1999 S02E07: Les Directives de Luton (The Rules of Luton)
Space 1999 S02E08: La Planète Archanon (The Mark of Archanon)
Space 1999 S02E09: Le Cerveau ordinateur (Brian the Brain)
Space 1999 S02E10: Une autre Terre (New Adam, New Eve)
Space 1999 S02E11: Catacombes de la Lune (Catacombs of the Moon)
Space 1999 S02E12: Les Chrysalides AB (The AB Chrysalis)
Space 1999 S02E13: Le Secret de la caverne (Seed of Destruction)
Space 1999 S02E14: Le Nuage qui tue (The Beta Cloud)
Space 1999 S02E15: Déformation spatiale (Space Warp)
Space 1999 S02E16: Une question d'équilibre (A Matter of Balance)
Space 1999 S02E17: Un message d'espoir - 1re partie (The Bringers of Wonder - Part 1)
Space 1999 S02E18: Un message d'espoir - 2e partie (The Bringers of Wonder - Part 2)
Space 1999 S02E19: L'Élément lambda (The Lambda Factor)
Space 1999 S02E20: Le Spectre (The Seance Spectre)
Space 1999 S02E21: Dorzak (Dorzak)
Space 1999 S02E22: La Planète du diable (Devil's Planet)
Space 1999 S02E23: Le Syndrome de l'immunité (The Immunity Syndrome)
Space 1999 S02E24: Les Dorcons (The Dorcons)
***
Ici les pages du site Catacombs.net qui réunit toute la documentation sur la série Cosmos 1999.