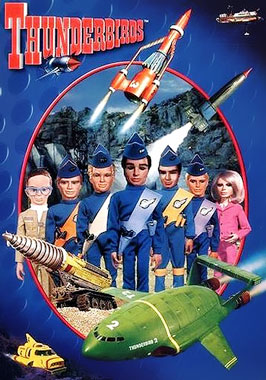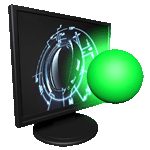 Thunderbirds (1965)
Traduction du titre original : Les Oiseaux-Tonnerre.
Autre titre : Les aventures de Lady Pénélope.

Diffusé sur ATV UK à partir du 30 septembre 1965.
Diffusé partiellement en 1976 sur ANTENNE 2 FR,
Diffusé intégralement sur CANAL JIMMY FR en 1991, et sur SERIE CLUB FR à partir de 1993.
Sortie en Blu-ray anglais le 15 septembre 2008 (anglais seulement, sous-titres anglais, lisible en France, recadré 16/9ème, forma 4:3 non respecté, effets sonores améliorés).

De Gerry Anderson, Sylvia Anderson. Avec Peter Dyneley, Sylvia Anderson, Shane Rimmer, David Holliday, David Graham, Ray Barrett, Christine Finn.

Jeff Tracy, un ancien astronaute, a investi sa fortune dans une force de secours secrète et indépendante utilisant des technologies en avance sur leur temps, dans laquelle il emploie ses cinq fils. Grâce à une base spatiale en orbite, Thunderbird 5 que gardent en alternance ses fils John et Allan, il intercepte les communications du monde entier.
Grâce au Thunderbird 1, une fusée d'intervention rapide que pilote Scott Tracy, et au Thunderbird 2, un avion de transport supersonique que pilote Virgil Tracy, la Sécurité Internationale contrôle les airs. Grâce au Thunderbird 3, piloté en alternance par John et Alan, la Sécurité Internationale contrôle l'espace interplanétaire. Le Thunderbird 4, piloté par Gordon, contrôle lui le fond des mers.
Jeff Tracy dispose également d'un réseau d'agents dans le monde entier, dont Lady Penelope, qui peut intervenir en utilisant des méthodes de contre-espionnage plus ou moins classiques et plus ou moins délicates - et d'un laboratoire futuriste dirigé par Brains, qui conçoit l'essentiel des nouvelles technologies mises en oeuvre par la Sécurité Internationale.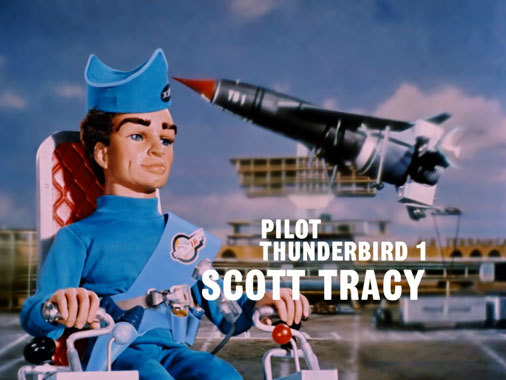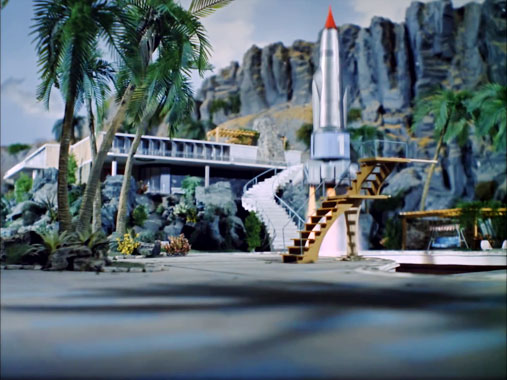 ***

Saison 1 (1965)

Thunderbirds S01E01: Pris au piège (Trapped in the Sky)
Thunderbirds S01E02: L'Éboulement (Pit of Peril)
Thunderbirds S01E03: Lady Pénélope en danger (The Perils of Penelope)
Thunderbirds S01E04: Terreur à New York (Terror in New York City)
Thunderbirds S01E05: Essais en vol (The Edge of Impact)
Thunderbirds S01E06: Le Pont (A Day of Disaster)
Thunderbirds S01E07: Le Bracelet (30 Minutes after Noon)
Thunderbirds S01E08: Le Trésor du lac (Desperate Intruder)
Thunderbirds S01E09: Le Bout de la route (End of the Road)
Thunderbirds S01E10: Perdus dans le désert (The Uninvited)
Thunderbirds S01E11: Vers le soleil (Sun Probe)
Thunderbirds S01E12: Le Passager clandestin (Operation Crash Dive)
Thunderbirds S01E13: Le Talent de Parker (Vault of Death)
Thunderbirds S01E14: Sabotage à l'usine atomique (The Mighty Atom)
Thunderbirds S01E15: Au feu ! (City of Fire)
Thunderbirds S01E16: Les Imposteurs (The Impostors)

***

Saison 2 (1966)

Thunderbirds S02E01: L'Homme du MI.5 (The Man from MI.5)
Thunderbirds S02E02: Les Amateurs (Cry Wolf)
Thunderbirds S02E03: Danger sur les mers (Danger at Ocean Deep)
Thunderbirds S02E04: Un geste et vous êtes mort (Move-and You're Dead)
Thunderbirds S02E05: La Duchesse (The Duchess Assignment)
Thunderbirds S02E06: Le Monorail ou Arrêtez le train (Brink of Disaster)
Thunderbirds S02E07: L'Attaque des alligators (Attack of the Alligators)
Thunderbirds S02E08: L'Invasion des Martiens (Martian Invasion)
Thunderbirds S02E09: Message en musique (The Cham-Cham)
Thunderbirds S02E10: Le Rêve (Security Hazard)
Thunderbirds S02E11: Au fond de l'océan (Atlantic Inferno)
Thunderbirds S02E12: Le Barrage (Path of Destruction)
Thunderbirds S02E13: Un drôle de nom : (Alias Mr. Hackenbacker)
Thunderbirds S02E14: Les Vacances de Parker (Lord Parker's 'Oliday)
Thunderbirds S02E15: Le Satellite pirate (Ricochet)
Thunderbirds S02E16: Joyeux Noël (Give or Take a Million)
***
Donnez votre avis sur cette série en nous rejoignant sur le forum Philippe-Ebly.fr, salon Science-fiction.