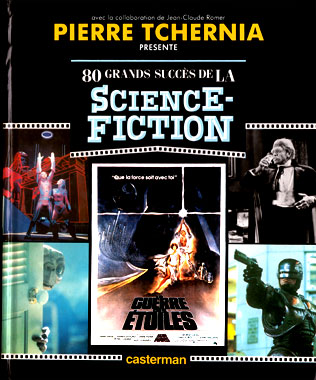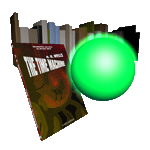 Pierre Tchernia présente: 80 grands succès de la Science-Fiction (1989)
Sorti en France en mars 1989
De Pierre Tchernia, Jean-Claude Romer, François Laffort, Gérard Blanchard.
Pierre Tchernia ("Monsieur Cinéma") préface un index alphabétique des 80 films de Science-fiction suivants :
***
L'abominable docteur Phibes (1971The Abominable Doctor Phibes)
Aelita (1924)
L'âge de cristal (1976, Logan's Run)
Alien, le huitième passager (1979, Alien)
Aliens, le retour (1986, Aliens, Alien 2)
Alphaville (1965)
Apocalypse 2024 (1976, A Boy And His Dog)
Au-delà du réel (1980, Altered States)
L'aventure intérieure (1987, Inner Space)
Barbarella (1968, Barbarella Queen of the Galaxy)
Brain Storm (1983)
C'était demain (1979, Time After Time)
La chose d'un autre monde (1951, The Thing From Another World)
Croisières sidérales (1942)
Dark Star (1974)
Les monstres attaquent la ville (1954, Them!)
2001, l'odyssée de l'espace (1968, A Space Odyssey)
2010 (1984)
Docteur Cyclops (1940)
Dr. Jekyll et Mr. Hyde (1932, Dr. Jekyll And Mr. Hyde)
Dr Jekyll et Mr Hyde (1941, Dr Jekyll and Mr Hyde)
Dr. Jerry et Mister Love (1963, The Nutty Professor)
L'Empire contre-attaque (1980, Star Wars 5, Star Wars: Episode V - The Empire Strikes Back)
E.T., l'extra-terrestre (1982, E.T. The Extraterrestrial)
Fahrenheit 451 (1966)
La femme sur la Lune (1929, Frau im Mond)
La fiancée de Frankenstein (1935, The Bride Of Frankenstein)
Flash Gordon // Guy l'éclair (1980)
Galactica, la bataille de l'Espace (1978, Battlestar Galactica)
Godzilla (1954, Gojira)
La Guerre des étoiles // Star Wars épisode IV: Un nouvel espoir (1977, Star Wars: Episode IV, A new hope)
La guerre des mondes (1953, War Of The Worlds)
L'homme invisible (1933, The Invisible Man)
L'homme qui rétrécit (1957, The Incredible Shrinking Man)
L'homme qui venait d'ailleurs (1976, The Man Who Fell To Earth)
L'île du docteur Moreau (1932, Island Of Lost Souls)
L'invasion des profanateurs de sépultures (1956, Invasion Of The Bodysnatchers)
Le jour où la Terre s'arrêta (1951, The Day The Earth Stood Still)
La machine à explorer le temps (1960, The Time Machine)
La marque // Terre contre satellite (1957, Quatermass II)
Le météore de la nuit (1953, It Came From Outer Space)
Le monstre (1955, The Quatermass Experiment)
La mouche (1986, The Fly)
New York 1997 (1981, Escape from New York)
La nuit des morts-vivants (1968, The Night Of The Living Dead)
Outland... Loin de la Terre (1981, Outland)
Paris qui dort (1923)
La planète des singes (1968, Planet Of The Apes)
Planète interdite (1956, Forbidden Planet)
Les poupées du Diable (1936, The Devil-Doll)
Le rayon invisible (1936, The Invisible ray)
Rencontre d'un troisième type (1977, Close Encounters Of The Third Kind)
Le retour du Jedi (1983, Return Of The Jedi - Star Wars 6)
Retour vers le futur (1985, Back to the Future)
Rollerball (1975)
Silent Running... Et la Terre survivra (1972, Silent Running)
Solaris (1972)
Soleil Vert (1973, Soylent Green)
La soupe aux choux (1981)
Starman (1985)
Star Trek, le film (1979, Star Trek: The Motion Picture)
Superman (1978)
Les survivants de l'infini (1955, This Island Earth)
Terminator (1984, The Terminator)
Le testament du docteur Cordelier (1961)
THX 1138 (1971)
Le trou noir (1979, The Black Hole)
Le voyage dans la Lune (1902)
Le voyage fantastique (1966, Fantastic Voyage)
Woody et les robots (1973, Sleeper)
Zardoz (1973)
***
Les fiches sont complétées par des tableaux récapitulatifs :
Robots et androïdes ; vaisseaux spatiaux ; les extraterrestres ; les affiches de Science-fiction.
***